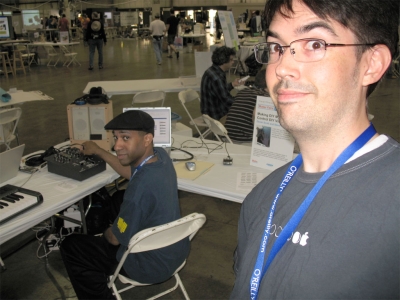 Maker Faire 2007 was a blast! Steve and I had a great time not only seeing all the great projects and crafts other people were showing, but also sharing our project with those who were interested…and many folks were. We had a workbench right next to Cycling 74 (makers of Max/MSP/Jitter) and the OpenSound Control (OSC) master himself, Adrian Freed. This was a good thing for several reasons. For one thing, it allowed us to pick the brain of Mr. Freed a little bit about OSC since that was the protocol we were using to communicate between Processing and Pure Data (Pd). It also allowed people interested in Max/MSP/Jitter but couldn't afford it see that Pd is a great alternative. Many of them didn't even realize Pd existed, so exposing it to them was a bonus as well.
We did have a few challenges though. Lots of kids came up to our workbench expecting our keyboard controller to do something when the keys were pressed. Unfortunately, we had only mapped 5 of the 8 knobs to actual events….we didn't do anything with the pads or keys. So Sunday morning, we quickly figured out how to make them trigger a splash of color and shapes in Processing along with the other visual elements triggered by the Pd patch. Another issue we ran into was the unforeseen power of the Tesla coils right across the way. On Sunday they crippled the wireless router we were using to send data between computers, so we had to resort to using wired connections to the router. Not ideal, but it got us through. But hey….we can't deny the Tesla coils looked really freakin' cool.
Other than that, the only thing I wish was that we had more time away from our workbench so we could take in all the fun stuff. Oh well…we still had a great time, and can't wait for it to come around next year. But there is a possibility we'll be in Austin, Texas for the October Maker Faire. We'll keep you posted.