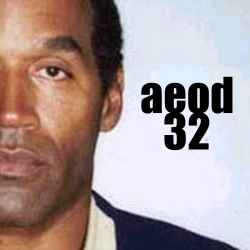 It was all over the news…everyone saw it. You know what we're talkin' about. If not, you're about to get it explained by AEOD. But it's an audio explanation, so tune your ears in for an audible break down of OJ Simpson's story. And, here's a quick bit of background on each track from AEOD's view…
Buffalo Bill:
When OJ first realized he was getting drafted from USC by the Bills, Then came the women, partying, fast life and all that.
32:
The mystery still revolves around Orenthal. Did he or didn't he?
Suspect on Highway 5 -
The title speaks for itself. Interrupted the Rockets game during the 1995 finals!
Closing Arguments:
Johnnie Cochran just being Johnnie Cochran…playing the race card to the fullest.
Walk Free:
The 1995 verdict. Not knowing…13 years to the exact day.
15 To Live (Lookout Jerome):
OJ looks like someone we know named Jerome. Mostly because they have similar facial expressions. So we called him jerome. "Thank you Mr. Simpson for all you have done. You may have a seat."
Buffalo Bill
32
Suspect On Highway 5
Closing Arguments
Walk Free
15 to Life (Lookout Jerome)